Review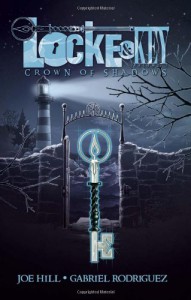 It is getting increasingly difficult to continue to merely borrow the books in this series from the library. That is not to say that I have a difficult time in procuring them, but out of the many many many books that I currently own, it seems more that with each passing day the majority of them don't seem to quite cut the butter, in comparison to this series. I really wish that I owned my own copies of this series, and I believe that I may have to keep my eyes open for a deal on the series at some point in the future.
This comic book series makes me come back, time and again, to relive the story, the characters and the dazzling magic at work that I had read the night before. Yes, before writing this review, I flipped through this book, wondering at the beautiful artwork (I find the faces of the characters to be mesmerizingly beautiful and full of an almost alive expression, especially the eyes, and especially Bode's) the dialogue that seems so much more natural than most writing that I've seen and, finally, to read the plot twists that kept me glued to the couch the night before like a child being read a riveting bedtime story.
It's fair to say that as good as Head Games was, and, indeed, Welcome to Lovecraft, for that matter, Crown of Shadows proves what I've thought to be true, since I read Head Games; this series gets much, much better as it goes on, the subtle but vibrant layering of every character's point of view and story truly weaving a tapestry - or, more fitting, perhaps, each adding it's own room in a sort of massive mansion, constantly and consistently morphing and growing, so that none are exactly the same as the last time that you saw them.
Whereas the last book was focused on allowing the reader to see what Dodge meant in Welcome to Lovecraft as the "story" that poor Bode was not privy to understand. Dodge does not go away from the main story, but his looming shadow shrinks to allow the light from the Lockes to shine a bit brighter, so that we can see Kinsey as she makes new friends, Tyler as he seems to become more mature under the weight of his burden as the oldest sibling and Nina as she starts to stumble and possibly crumble under the unbearable weight of her pain.
The whole book is one bumpy, rollercoaster ride full of intrigue and drama, and I am looking forward to seeing how Keys to the Kingdom improves on the story and leaves me even more astounded than this entry in the series did.